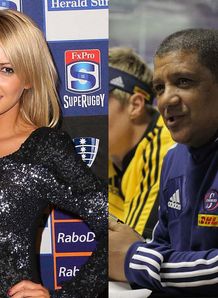 It is time for Planet Rugby's weekly wrap of who has their name in lights right now...and who is making the oval ball headlines for the wrong reasons.
You can't touch this!:
France's swanky new 500M Euro home: The Fédération Française de Rugby (FFR) announced on Friday that it plans to build a new 82,000-seater stadium in Evry, 25km south of Paris. The graphic of the proposed future home of French rugby is pleasing to the eye in our opinion while if you factor in that France will no longer be playing second-fiddle to football matches at the Stade de France then this looks to be a winning move.
Bridget Bauman: Yes those haircuts remain questionable, but James O'Connor's taste in girlfriend Bridget has been met with an emphatic nod from us here at PR HQ.
London Welsh: While the circumstances of their promotion to the top flight have been bordering on the farcical, finally the decision was made for the Championship winners to make the step up at the expense of Newcastle Falcons. An independent audit had previously found that the club had not achieved the minimum standards required - particularly at their stadium in Richmond - for promotion to the Aviva Premiership, but that was quashed at Friday's appeal hearing. Let us now hope not to see such indecision again as calls are already flooding in for that 'minimum standards' criteria to be abolished.
Hurricanes: On Saturday, Mark Hammett's ever-improving team became the first outfit to win at the Crusaders' new home stadium as two tries from Conrad Smith helped them keep their play-off ambitions very much alive. With a bye week coming up and then a clash with the Chiefs in Wellington to finish off, things look promising for the men in yellow. Picture this; if the Chiefs beat the Crusaders this week - thus becoming untouchable at the New Zealand conference summit - then who would blame Dave Rennie for resting stars like Sonny Bill Williams and Aaron Cruden for that clash against Hammett's men. Discuss.
USA Juniors: The United States won the Junior World Rugby Trophy championship in front of its home crowd over the weekend. The young Eagles won 37-33 at a sold-out Murray Rugby Park, Utah in a result that sees them replace Italy in next year's IRB Junior World Championship set for France. Wing Noah Tarrant, who scored a hat-trick in the game against Japan, claimed what proved to be the winner in the 76th minute. Congratulations.
---
Bbbrrrr... Someone throw another log on the fire!
Stormers: Twelve victories out of fourteen and still they are missing that elusive try bonus-point, the Stormers are grinding their way to the play-offs. Credit where credit is due, they are winning games under a thick cloud of injuries - particularly to their forwards - but for the neutral it is hardly entertaining stuff. Two bonus-points have been gathered up for the cold months in Cape Town but they came via narrow defeats to the Crusaders and Sharks.
'Canes scrum-half woes: While the men from Wellington have given themselves every chance of making the play-offs following that victory in Christchurch, their trouble in the number nine jersey seems to be going from bad to worse. Having lost Chris Smylie in pre-season, then TJ Perenara in the mini-break with a broken ankle and now Chris Eaton, who was forced off the pitch with a hamstring complaint. Jamie Nutbrown could now come in.
SARU fraudster: The South African Rugby Union (SARU) has again asked the media to assist in alerting people to the activities of an investment conman, claiming to represent SARU. The email fraudster offers investment returns of 130 per cent to 150 per cent for five-day deposits. SARU wished to state categorically that they are in no way involved in any such scheme. Whoever he is hopefully has his comeuppance and this does not happen again.