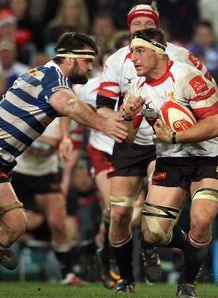 Related links
Also see
There are only two rounds left in the league phase of the competition and several teams are still fighting for play-off positions.
The wheels have come off somewhat for the Golden Lions in recent weeks. After losing to the Blue Bulls two weeks ago, they came from behind to snatch a last minute 25-all draw with the free State Cheetahs in Bloemfontein last week.
However, they gained a reprieve when their closest rivals, the Sharks slipped up when they lost 15-10 to Western Province in Durban last week.
The Lions face WP in Johannesburg this weekend and will be keen to return to the victory trail after their poor showings over the past two weekends.
WP, however, are on a high after their young side beat an experienced Sharks outfit in Durban. The Cape Town-based team are gunning for a home semi-final.
With the competition being culled from eight teams to six for the 2012 season, the Pumas and the Leopards have little to play for as they are already doomed to relegation.
The weekend's action kicks off in Nelspruit on Friday, where the Pumas host the Cheetahs. On Saturday, the Blue Bulls face Griquas in Kimberley and the bottom-placed Leopards clash with the Sharks in Potchefstroom.
Fixtures:
Friday, 7 October
Pumas v Cheetahs
Saturday, 8 October
Griquas v Blue Bulls, Golden Lions v Western Province, Leopards v Sharks
Standings:
1. Golden Lions 45
2. Sharks 38
3. Cheetahs 37
4. Western Province 36
5. Blue Bulls 33
6. Griquas 30
7. Pumas 14
8. Leopards 5
---
Previews:
Pumas v Cheetahs
Pumas Stadium, Witbank
The Cheetahs will be keen to bounce back after drawing their match against the Lions in Bloemfontein last week.
With seven minutes left on the clock, they held a 25-11 lead before the Lions ran in two converted tries.
Three weeks ago they also threw away a 22-12 lead, with 10 minutes left in the game, to allow the Blue Bulls to draw 22-all.
Cheetahs skipper Adriaan Strauss is aware that if they had won those two matches, they would have been in a much better position in the standings.
"I believe we can sort these issues out and will be switched on not to repeat them. For now, our most important task is to go to Witbank and ensure we get the victory we need over there," said Strauss.
"Things like bonus points don't come into the equation now, we just have to get back onto the winning track first."
In the last match between these sides in Bloemfontein on 20 August, the Cheetahs were in a rampant mood, winning 80-16.
However, the Bloemfontein-based side will not underestimate their hosts who, despite suffering a 47-12 defeat to the Blue Bulls in their last fixture, are always difficult to beat on their own turf.
Prediction:The Cheetahs are a classy side and should be too strong for their struggling opponents. Cheetahs by 10.
The teams:
Pumas: 15 MJ Mentz, 14 Wilhelm Loock, 13 JW Jonker, 12 Dewald Pretorius, 11 Johan Jackson, 10 Carl Bezuidenhout, 9 Shaun Venter, 8 Christo le Roux, 7 Jaco Bouwer, 6 Corné Steenkamp (c), 5 Eduan van der Walt, 4 JP Mostert, 3 Ashley Buys, 2 Pellow van der Westhuizen, 1 Dawie Steyn.
Replacements: 16 Brett Nel, 17 Michael de Neuilly-Rice, 18 RW Kember, 19 Nico Mostert, 20 Hendrik van der Nest, 21 Coenie van Wyk, 22 Siviwe Magaba.
Cheetahs: 15 Hennie Daniller, 14 Ryno Benjamin, 13 Robert Ebersohn, 12 Philip Snyman, 11 Cameron Jacobs, 10 Sias Ebersohn, 9 Piet van Zyl, 8 Ashley Johnson, 7 Philip van der Walt, 6 Pieter Labuschagne, 5 Izak van der Westhuizen, 4 Francois Uys, 3 WP Nel, 2 Adriaan Strauss (c), 1 Marcel van der Merwe.
Replacements: 16 Hercu Liebenberg, 17 Trevor Nyakane, 18 Wilhelm Steenkamp, 19 Boom Prinsloo, 20 Tewis de Bruyn, 21 Riaan Smit, 22 Andries Strauss.
Kick-off:19:10 (17:10 GMT)
Referee: Sindile Mayende
---
Griquas v Blue Bulls
Free State Stadium, Bloemfontein
This could be the most entertaining match of the weekend as Griquas always give a good account of themselves at home, while the Bulls seem to be striking form at the right time.
Bulls coach Pine Pienaar knows his team will have to be at their best to remain in contention for a spot in the semi-finals and expects a tough assignment.
Despite losing Zane Kirchner to the Springboks, the Bulls will be boosted by the return of fellow Boks, Dean Greyling, Deon Stegmann and Akona Ndungane (wing), who are back after injury lay-offs.
"It has always been a massive challenge to go and beat Griquas on their home patch and we will need all the experience we can get to do that. It is therefore very pleasing to welcome back the three Springboks to our team," he said.
Griquas have also made several changes to their starting line-up, the most notable being the return of game-breaking scrum-half Sarel Pretorius, who was on the replacements bench in their 38-23 win over the Leopards last week.
The Bulls will fancy their chances as they have not lost to Griquas in Kimberley since 2007 and in their previous encounter at Loftus Versfeld, they won 44-20.
Prediction:Griquas like the expansive game, so expect the Bulls to play it safe by keeping the ball amongst their forwards. It won't be pretty and it certainly won't be easy but the Bulls should grind out a win. Bulls by five!
The teams:
Griquas: 15 Rudi Vogt, 14 Dusty Noble, 13 Wilmaure Louw, 12 Matthew Rosslee, 11 Rocco Jansen, 10 Riaan Viljoen, 9 Sarel Pretorius, 8 Leon Karemaker, 7 Justin Downey, 6 Jonathan Mokuena (c), 5 George Earle, 4 Hendrik Roodt, 3 Lourens Adriaanse, 2 Ryno Barnes, 1 Ivann Espag.
Replacements: 16 Simon Westraadt, 17 Steph Roberts, 18 Jaco Nepgen, 19 Burger Schoeman, 20 Marnus Hugo, 21 Earl Rose, 22 Monty Dumond/Fabian Juries.
Blue Bulls: 15 Gerhard van Heever, 14 Akona Ndungane, 13 Wynand Olivier, 12 Francois Venter, 11 Bjorn Basson, 10 Louis Fouché, 9 Jano Vermaak, 8 CJ Stander, 7 Jacques Potgieter, 6 Deon Stegmann, 5 Juandré Kruger, 4 Flip van der Merwe, 3 Werner Kruger, 2 Gary Botha (c), 1 Dean Greyling.
Replacements: 16 Willie Wepener, 17 Frik Kirsten, 18 Gerrit-Jan van Velze, 19 Arno Botha, 20 Dustin Jinka, 21 Francois Brummer, 22 Warwick Tecklenburg.
Kick-off:15:00 (13:00 GMT)
Referee: Lourens van der Merwe
---
Golden Lions v Western Province
Coca-Cola Park Stadium, Johannesburg
The Lions are out for revenge against WP, after losing 28-26 to the Cape side in their previous match in Cape Town earlier this year.
That was the Johannesburgers' first defeat of the competition and they will look to put WP to the sword to secure their first home semi-final since 1999.
But they will have to play well to beat WP, who are on a high after their 15-10 victory over the Sharks in Durban last week.
Despite their position at the top of the standings, their last win came on 16 September when they beat the Leopards 43-23 in Potchefstroom.
However, a fine comeback secured them a 25-all draw against the Cheetahs last week and captain Josh Strauss believes the way they finished that match
"Coming back against the Cheetahs certainly fired us up a bit more and the character we showed late in that game was a great plus," he said.
"And even though we saw what WP did in Durban, we're not focused on other results. We know the four best teams will make it to the semi-finals and for us now, consistency is the key, as it's been all season.
"We're trying to stay away from getting too nervous and only have our goal for the weekend in mind - to win. It won't be easy, as one of their strongest features is their dedication on defence, so we need to ensure we play a good brand of attacking rugby and try to expose that."
Prediction: Expect another close encounter but the hosts should turn the tables on their opponents. Lions by five!
The teams:
Golden Lions: 15 Jaco Taute, 14 Deon van Rensburg, 13 Doppies la Grange, 12 Alwyn Hollenbach, 11 Michael Killian, 10 Elton Jantjies, 9 Michael Bondesio, 8 Warren Whiteley, 7 Joshua Strauss (c), 6 Derick Minnie, 5 Franco van der Merwe, 4 Michael Rhodes, 3 Patric Cilliers, 2 Bandise Maku, 1 JC Janse van Rensburg.
Replacements: 16 Martin Bezuidenhout, 17 Jacobie Adriaanse, 18 David Bulbring, 19 Jaco Kriel, 20 Burton Francis, 21 Dylan des Fountain, 22 James Kamana.
Western Province: 15 Conrad Jantjes, 14 Danie Poolman, 13 Berton Klaasen, 12 Marcel Brache, 11 JJ Engelbrecht, 10 Demetri Catrakilis, 9 Dewaldt Duvenage/Nic Groom, 8 Nick Köster, 7 Siya Kolisi, 6 Nick Fenton-Wells, 5 De Kock Steenkamp, 4 Adriaan Fondse, 3 Brok Harris, 2 Tiaan Liebenberg (captain), 1 JC Kritzinger.
Replacements: 16 Deon Fourie, 17 Frans Malherbe, 18 Hilton Lobberts, 19 Nizaam Carr, 20 Pieter Louw, 21 Groom/Louis Schreuder, 22 Johann Sadie..
Kick-off:17:05 (15:05 GMT)
Referee: Jaco Peyper
---
Leopards v Sharks
Olën Park, Potchefstroom
The Sharks can not afford to slip up in this clash as it could cost them a home semi-final.
The Leopards pride themselves on their forward play and their heavy pack will make life difficult for their opponents.
When these teams clashed in Durban earlier this year, the Leopards frustrated the defending champions for large periods and denied them a bonus point try before before going down 23-3.
Sharks coch John Plumtree has been unhappy with his side's performances in recent weeks and knows there will have to be a considerable improvement if they want to be competitive in the semi-finals.
"The issues we have are inexperience, we have a pretty light front row, we've had injuries and it hasn't been easy," said Plumtree.
"It's never easy for the bigger unions in a World Cup year, but we're positive. In saying that, we can't be expected to play like the main Sharks side that people recall from Super Rugby.
"We're taking it game by game - it's been a struggle for us all year, a frustrating season and we're picking up long term injuries, so it's been hard work. But we're still in it and we'll fight 'til we die. That's our attitude."
Prediction: Despite making some changes to their starting XV, the Sharks will be smarting after last week's loss to WP. Expect the Leopards to be on the receiving end of a backlash. Sharks by 20.
The teams:
Leopards: 15 Hoffmann Maritz, 14 Danie Dames, 13 Charl Weideman, 12 Joubert Engelbrecht, 11 Vainon Willis, 10 Wesley Dunlop, 9 Johann Laker, 8 Robert Kruger, 7 Luvuyiso Lusaseni, 6 Philip de Wet, 5 Brendon Snyman, 4 Brad Mockford, 3 Dewald Coetzee, Gavin Williamson, Jean-Jacques Rossouw.
Replacements: 16 Marius Fourie, 17 Alfred Wauts, 18 Christo van Niekerk, 19 Juan Pretorius/Siya Mdaka, 20 Liam Slatem, 21 Clayton Durand, 22 Jovan Bowles.
Sharks: 15 Gouws Prinsloo, 14 Sibusiso Sithole, 13 Adrian Jacobs, 12 Meyer Bosman, 11 Lwazi Mvovo, 10 Frederic Michalak, 9 Conrad Hoffmann, 8 Keegan Daniel (c), 7 Marcell Coetzee, 6 Jacques Botes, 5 Ross Skeate, 4 Jean Deysel, 3 Eugene van Staden, 2 Kyle Cooper, 1 Dale Chadwick.
Replacements: 16 Monde Hadebe 17 Wiehahn Herbst 18 Anton Bresler 19 Jan Andre Marais 20 Ross Cronje 21 Marius Joubert 22 Stefan Terblanche.
Kick-off:19:10 (17:10 GMT)
Referee: Joey Salmans