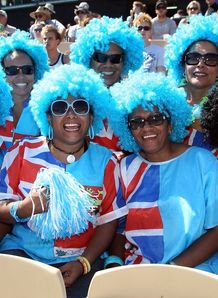 Fiji recorded their second victory at this year's Pacific Nations Cup after a stunning second-half come back against Tonga in Apia on Sunday.
Despite trailing 31-10 at half time, Fiji ran out eventual 41-38 victors in Apia and are now just one win away from a first ever PNC title.
Having beaten Japan 22-8 last week, Fiji will now play Samoa on 26 June, with a win ensuring their name will be etched on the PNC trophy for the first time ever.
But the result was heartbreak for Tonga as the side again lost narrowly after losing 24-23 to Samoa in the opening round.
The Pacific rivals were at their best and showed a level of competition that is improving each match.
Tonga got off to a flying start as full back Vungakato Lilo scored the match's first two tries in the opening 11 minutes and both were converted by full back Kurt Morath to give them a 14-0 lead.
For Lilo's second, Morath placed a precise cross field kick for wing William Helu to offload neatly for the full back to score and stun Fiji.
Just over ten minutes later Tonga had doubled their lead as first Alipate Fatafehi intercepted a Fijian pass inside his own 22 before racing 80 metres to cross under the posts and scrum half Samisoni Fisila picked the ball up from the base of a scrum and darted over.
Tonga's opening try scorer Lilo was sent to the sin bin on the 26th minute, however, which gave Fiji a way back into the match before half time.
Fullback Taniela Rawaqa kicked the resulting penalty, before the impressive Sireli Naqelevuki set up wing Malakai Bakaniceva for Fiji's first try of the match. Morath added another penalty, however, to make the scores 31-10 at half time.
After the restart Fiji scored after just four minutes, with prop Campese Ma'afu taking advantage of excellent forward play and Rawaqa adding the conversion, but Tonga responded immediately through Alepini Olsson.
The lock showed great strength to score Tonga's fifth try, beating four defenders, and Morath made it five from five conversions.
Fiji coach Sam Domoni made several replacements, and they had an immediate impact as scrum half Kelemedi Bolatagane showed excellent speed with a quick tap to make it 38-27.
Captain Dominiko Waqaniburotu scored the Fijian's fourth try having received the ball on the wing from replacement Graham Dewes, and Rawaqa cut the deficit to just four points with the conversion.
With five minutes remaining Tongan hearts were broken as Fiji completed the come back through lock Sekonaia Kalou who scored the winning try in the corner and Rawaqa's conversion extended his leading all-time PNC points tally to 83.
Fiji captain Domoniko Waqaniburotu: "It was a great comeback. We made a lot of mistakes in the first half but in the second half we had to comeback. Tonga was stopping us from going wide and made us play their way in the first half. We changed this in the second half and spread the ball, which paid dividends and we scored the tries."
Tonga coach Isitolo Maka: "I think indiscipline was costly to us. We had two players sin binned and that was where Fiji took advantage of us from. I'm happy with the performance of the players as they did well at the ground. Fiji was a tough team and they played another type of rugby game in the second spell."
Tonga captain Aleki Lutui: "We are very disappointed. The same thing from last week happened again. We improved at the set pieces and scrums but our defence was poor in the second half. Fiji came out very strong in the second half and made us pay for the lacklustre performance in the second half."
Tonga play Japan on 26 June in their final ANZ PNC 2010 match, whilst Fiji play Samoa at Apia Park.
With thanks to the IRB